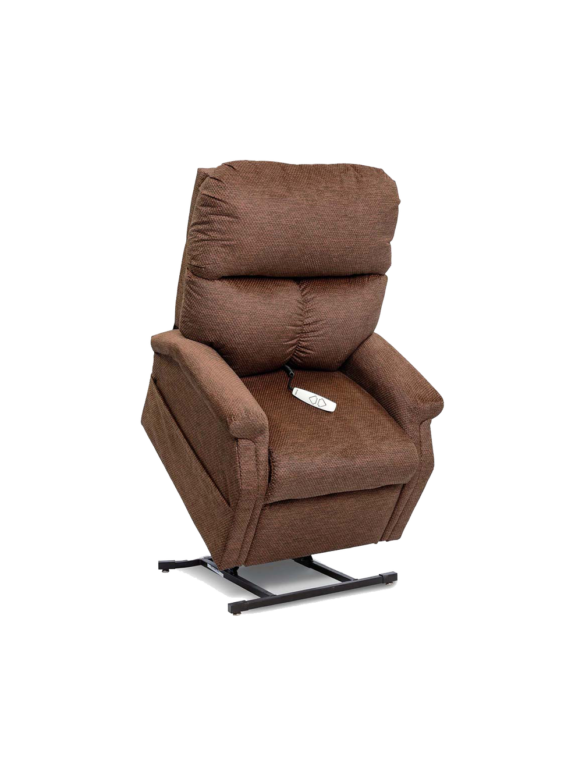 How to Choose the Perfect Lift Chair
How to Choose the Perfect Lift Chair
Choosing the perfect Lift Chair is easier than ever when you use our online store. On the RehabPulse website's Lift Chair section, you can choose to look at several review videos, text reviews, upholstery options and specifications.
The very first step to choosing the perfect lift chair is understanding that all lift chairs are not created equal. For instance, at RehabPulse.com we only list reputable manufacturers that back their products. They are leaders in their respective industries.
Many of our customers initially find us after researching the best prices for mobility scooters and then learn that we also offer Lift Chairs at the same aggressive pricing.
Choosing the Proper Lift Chair Size
Choosing the proper lift chair size is going to be based upon your height. You will want to know what your ideal seat depth is. The last thing you want to do is to order a lift chair only to realize that it doesn't fit you right. Luckily, if there is a chair you've sat in that you identify the depth is perfect, you can measure it! This allows you to then know the perfect seat depth that is right for you. Doing this can save you hundreds of dollars.
Seat width is another critical factor you'll want to pay close attention to. If you get a Lift Chair that is too slim, you'll feel squished in the chair and rather comfortable. You can always measure yourself at the widest point of your hips or buttocks to determine the maximum width you would need in order to comfortably fit into the chair. It is recommended the seat width is wider than your widest part of the body by a large margin that way you are comfortable. In other words, you would not want to leave only .5″ on each side as you can hardly move around without bumping into the sides.
In summary, there are a few specifications that are more important than others. It's important that you measure yourself or a chair that you can access which feels comfortable to you already. Many customers have an existing office chair or chair at home that they can measure to get an idea of what the dimension of a comfortable seat is. The most important features that we recommend paying close attention to are:
Weight Capacity
Recommended User Height
Seat Width
Seat Height
Seat Depth
The Different Lift Chair Options
You have plenty of options when it comes to Lift Chairs. Each category of Lift Chair has a different number of adjustments that can be made. For instance, there are two position Lift Chairs, three positions Lift Chairs, and infinite position Lift Chairs that we sell at Rehabpulse.com. The type of Lift Chair option you choose will be primarily based on not only your budget but desired features. If you want more adjustability, you will want to get into an infinite position lift chair, whereas if you are more concerned with spending the least amount of money possible it would likely be advantageous to chose a two-position lift chair.
Some Lift Chairs offer extra features like headrest support adjustment, lumbar support adjustment as shown in the video below. Some even have a heating and massage option. Many customers want all of the bells and whistles and aren't concerned about price but we know that is not the case with everyone. We do offer financing directly on our website which is easy to apply for. Simply find the product you are interested in and click on the monthly price option upon checkout to apply for financing.
Both colors and materials will vary according to the product you purchase as well. Many Lift Chairs come with optional fabric and color upgrades. The color and fabric choice will be up to you.
Give RehabPulse Customer Service representatives a call at 877-234-2018 if you're unsure about any of the power lift recliners that we carry for sale.
Published on Jun 30 2021
Last Updated on Sep 24 2021